Active Ingredient

Carbendazim 

Name

Carbendazole 50% SC, Carbendazim 500g/L SC

CAS Number

10605-21-7

Molecular Formula

C9H9N3O2 Type 

Application

fungicides

Brand Name

POMAIS

Shelf life

2 Years

Purity

Carbendazim 500g/L SC

State

Liquid

Label

Customized

Formulations

50% SC; 50%WP; 98%TC

The mixed formulation product

Carbendazim 64% + Tebuconazole 16% WP

Carbendazim 25% + Flusilazole 12% WP

Carbendazim 25% + Prothioconazole 3% SC

Carbendazim 5% + Mothalonil 20% WP

Carbendazim 36% + Pyraclostrobin 6% SC

Carbendazim 30% + Exaconazole 10% SC

Carbendazim 30% + Difenoconazole 10% SC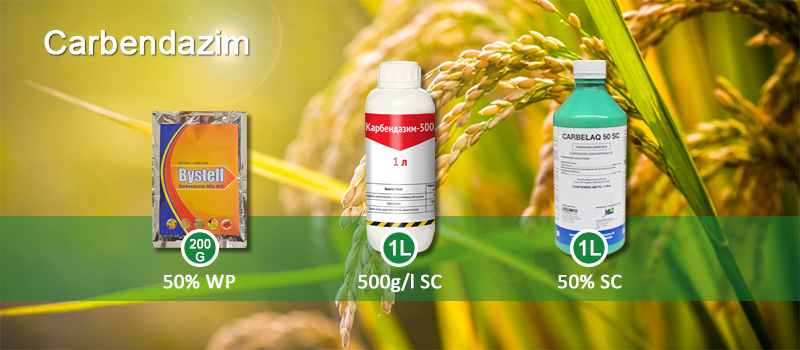 Suitable Crops:
The fungicide is used to control plant diseases in many crops and fruits.
Carbendazim is Systemic fungicide with protective and curative action. Absorbed through the roots and green tissues, with translocation acropetally. Thiram is Basic contact fungicide with protective action.

| | | | |
| --- | --- | --- | --- |
| Crop | Fungal diseases   | Dosage  | Usage method |
| Wheat | Scab  | 1800-2250 (g/ha) | Spray |
| Rice | Sharp Eyespot  | 1500-2100 (g/ha) | Spray |
| Apple | Ring rot  | 600-700 times liquid | Spray |
| Peanut | Leaf spot  | 800-1000 times liquid | Spray |
We're able to provide customized package.
Packing Diversity
COEX, PE, PET, HDPE, Aluminum Bottle, Can, Plastic Drum, Galvanized Drum, PVF Drum, Steel-plastic Composite drum, Aluminum Foll Bag, PP Bag and Fiber Drum.
Packing Volume
Liquid: 200Lt plastic or iron drum, 20L, 10L, 5L HDPE, FHDPE, Co-EX, PET drum; 1Lt, 500mL, 200mL, 100mL, 50mL HDPE, FHDPE, Co-EX, PET bottle Shrink film, measuring cap;
Solid: 25kg, 20kg, 10kg, 5kg fiber drum, PP bag, craft paper bag,1kg, 500g, 200g, 100g, 50g, 20g Aluminum foil bag;
Carton: plastic wrapped carton.
How do you guarantee the quality?
From the beginning of the raw materials to the final inspection before the products are delivered to the customers, each process has undergone strict screening and quality control.
What's the delivery time?
Usually we can finish the delivery 25-30 work days after contract.