Active Ingredient

Oxyfluorfen 240g/L EC

Other Name

Oxyfluorfen 24% Ec

CAS Number

42874-03-3

Molecular Formula

C15H11ClF3NO4

Application

Herbicide

Brand Name

POMAIS

Shelf life

2 Years

Purity

24% Ec

State

Liquid

Label

Customized

Formulations

240g/L EC, Oxyfluorfen 24% Ec

The mixed formulation product

Oxyfluorfen 18% + Clopyralid 9% SC

Oxyfluorfen 6% + Pendimethalin 15% + Acetochlor 31% EC

Oxyfluorfen 2.8% + Prometryn 7% + Metolachlor 51.2% SC

Oxyfluorfen 2.8% + Glufosinate-ammonium 14.2% ME

Oxyfluorfen 2% + Glyphosate ammonium 78% WG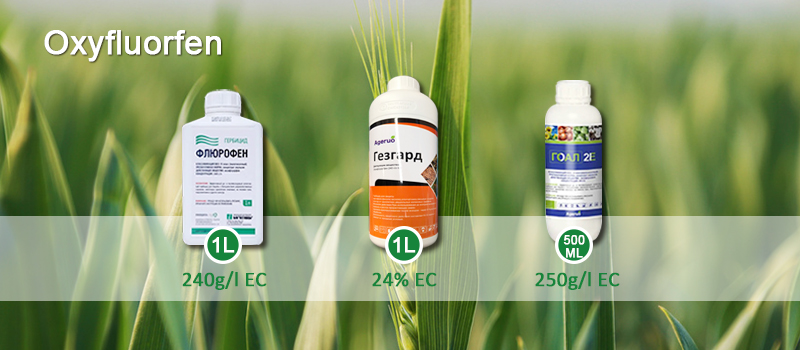 Suitable Crops:
Herbicide Oxyfluorfen 240 EC works best when applied pre-emergence and early post-emergence in weeds. It has a good contact killing effect on weeds during the germination period of seeds, and has a wide spectrum of weed killing. It has inhibitory effect on perennial weeds. For cotton, shallots, peanuts, soybeans, sugar beets, fruit trees and vegetable fields, pre-emergence and post-emergence control of barnyardgrass, essentia, dry brome, foxtail, datura, creeping ice grass, ragweed, goldenrod , abalone, cotyledon and broadleaf weeds.
Crop Names

Weeds Prevention

 Dosage

Usage Method

 

Forestry Nursery

Annual weeds

1125-1500 (ml/ha)

Soil spray

Garlic field

Annual weeds

600-750 (ml/ha)

spray

Peanut field

Annual weeds

600-900 (g/ha)

spray

Paddy field

Annual weeds

150-300 (ml/ha)

Poisonous soil

Apple orchard

Annual weeds

900-1200 (g/ha)

Spray

Cotton field

Annual weeds

600-900 (g/ha)

Spray

Sugarcane field

Annual weeds

450-750 (g/ha)

Soil spray
We have a very professional team, guarantee the lowest prices and good quality.
We have excellent designers, provide customers with customized packaging.
We provide detailed technology consulting and quality guarantee for you.
How to place order?
Inquiry--quotation--confirm-transfer deposit--produce--transfer balance--ship out products.
What about the payment terms?
30% in advance, 70% before shipment by T/T.